1. Spyzie
Spyzie is one of the best Facebook parental controls apps out there. It can be connected to your kid's smartphone and will allow you to track their every movement. Currently, its basic plan is available for around $29.99 a month. With it, you can track their location, text messages, call history, installed applications, and a lot more. Additionally, with the premium plan, you can further track other applications like Whatsapp, Tinder, LINE, Snapchat, Viber, etc.
Their parental control for Facebook is available right here. With it, you can track your kid's activity and get notified on a real-time basis.
If you want to keep your baby safe, maybe you can also try a baby monitor to make sure your baby is okay when you are outside.
2. FamiSafe
There are different applications for cellphone that can help you filter mature and inappropriate content. It will provide a remote interface, so that you can have surveillance on your kid's behavior on Facebook. It provides additional features like social media chat, search history detection, photo scans, daily app timeline, and a lot more.
Parents can choose harmful keywords and receive instant alerts.
Link: https://famisafe.wondershare.com/
Price: 3 free day trial on Google play and App store (cross platform and one account can mange up to 30 devices)
3. Norton Family Premier
Track the overall activity of every family member and keep everything organized using Norton's Family Premier Application. It is also available for a 30-day free trial and can be subscribed for the whole pack right here. It has different packs that are available from $12 to $45.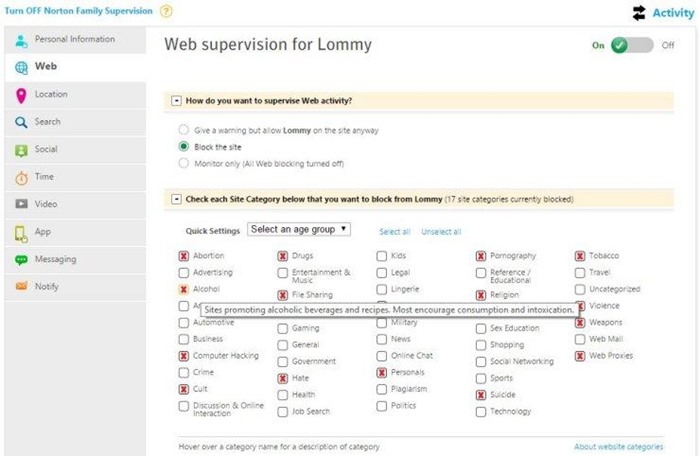 It is compatible with various platforms and will help you supervise the activity of your kid on social media easily. There is a provision for their time management, searches, email alerts, location, history, and a lot more.
4. Net Nanny Social
Net Nanny Social is known as one of the most trusted parental controls for Facebook. You can simply link it to your kid's account and install the setup while customizing it as per your requirements. After that, you can get an alert for almost every activity of your kid on Facebook.
You can visit Net Nanny's Social website right hereand get to know more about it. With a subscription for just $19.99 a year, you can protect your whole family from bullying or exposure to mature content. Not only will it provide prompt alerts, but can let you manage the time your kids spend on social media while blocking any kind of inappropriate content.
5. Qustodio
Qustodio calls itself as "Advanced Facebook Monitoring" software and it certainly lives up to its name. After giving a one-time permission on Facebook, the application will let you track every move of your kid's Facebook activity. From the comments made by their friends to any third-party activity, it would cover it all.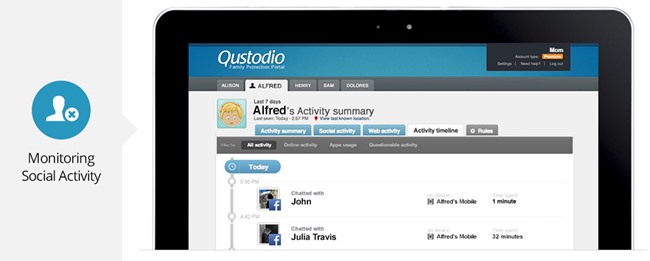 After installing this, you would get a dedicated interface that will let you manage every activity without any trouble. You can download it for free from right here. It is known as one of the best free applications for parental controls on Facebook. The free version supports one user. You can additionally get a Premium 5 and 10 user version for $45 and $85 respectively.
6. Familoop Safeguard
Familoop is one of the most secure Facebook parental controls that can help you track every move of your family's online activity in one place. It also has a mobile app that would let you track everything on the go. You can get to know about its additional features from its official website here.
Also, you can try it for free for ten days and can later opt for a premium 3 or premium 10 account for almost $40 and $70 a year. You can review your child's friends, their everyday activity on Facebook, get alerts for cyber bullying, and more without any trouble.
7. SniperSpy
SniperSpy is another one of the most reliable parental controls for Facebook applications. With this highly useful tool, you can keep a check on your kid's activity without letting them know about it. You can visit its official website right hereand buy the standard version for $79.97 a year.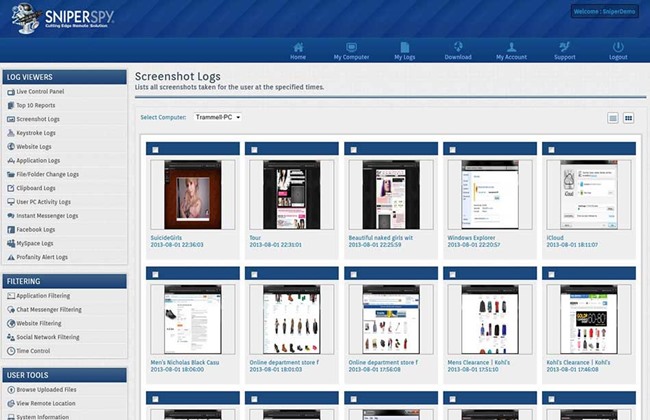 It provides a live screenshot viewer – a feature which is not present in most of the other applications. You can get an extensive report log and live updates on its interactive interface.
8. Safe Eyes
Safe Eyes is another remarkable parenting control software that provides an in-depth comparison of various websites and online activity of your kid. You can get to know about its added features right here.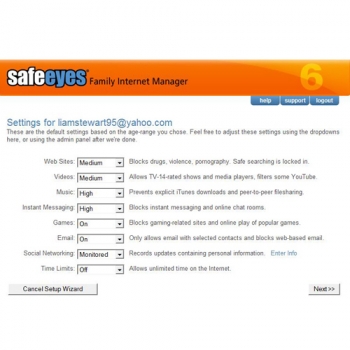 The application is available for various operating systems and is compatible with almost every social media website, including Facebook. You can also set the degree of monitoring for every medium, as it provides various levels of customization. You can either enjoy its free trial or buy it for as less as $39.95.
9. Bitdefender
If you are looking for one of those parental controls on Facebook that provide an added support for websites and other apps, then Bitdefender is just the right product for you. One can buy it for as less as $29.95 a year from its official website right here. It also has a free trial version as well.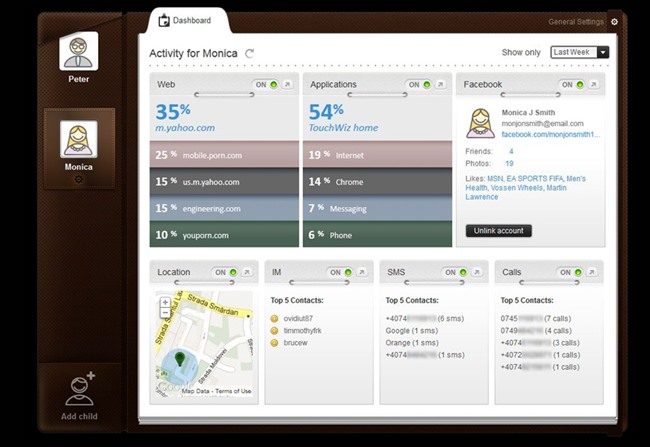 Besides providing an in-depth activity log of your kid's activity on Facebook, it has plenty of other features like app control, website blocking, mobile phone tracking, IM monitoring, and more.
10. PureSight Owl
Developed by PureSight, the application will help you create a nurturing social environment for your kid. You can visit its official website right hereand use its free trial. You can also customize it while buying, as it has different plans to cater your needs. The 3-user plan starts from as less as $39.90 per year.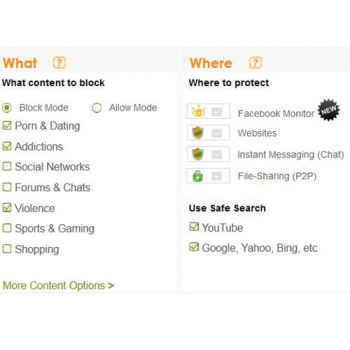 There are various in-built filters as well that you can apply in order to get a comprehensive report of your family's online activity. It has an added Facebook monitoring and cyber-bullying control feature that would be of a great help to you as well.